Influence of the quality perception of care on health in university students
Abstract
Objective: The quality perception of patient care is a line of care that has been relegated in the university students, since they have the right to medical care from the university, however, there are factors both in the health sector and in the university that decrease healthy practices in university students. The objective of this study was to evaluate how to perceive  the quality of health care on the perception and practices of health in the students of the University of Quintana Roo through a model of structural equations.
Materials and methods: A total of 401 students from the Autonomous University of the State of Quintana Roo over the age of 20, 70% women and 30% men, were surveyed. The scales of perception of the quality of care in the medical service, quality of the health promotion service by the university and the perception of health in the student were applied; Using a structural model, the relationship between the quality of services and health care was analyzed.
Results: The perception of an adequate quality of care in health institutions and university influences possitively the perception of health of students (p<0.05). On the other hand, it was found that 70% of the students do not have preventive health actions.
Conclusion: The perception of health and preventive practices can be influenced by the quality of the services offered at the health institution and university.
Keywords: Quality of care, Students, Equation model, Health.
Downloads
Download data is not yet available.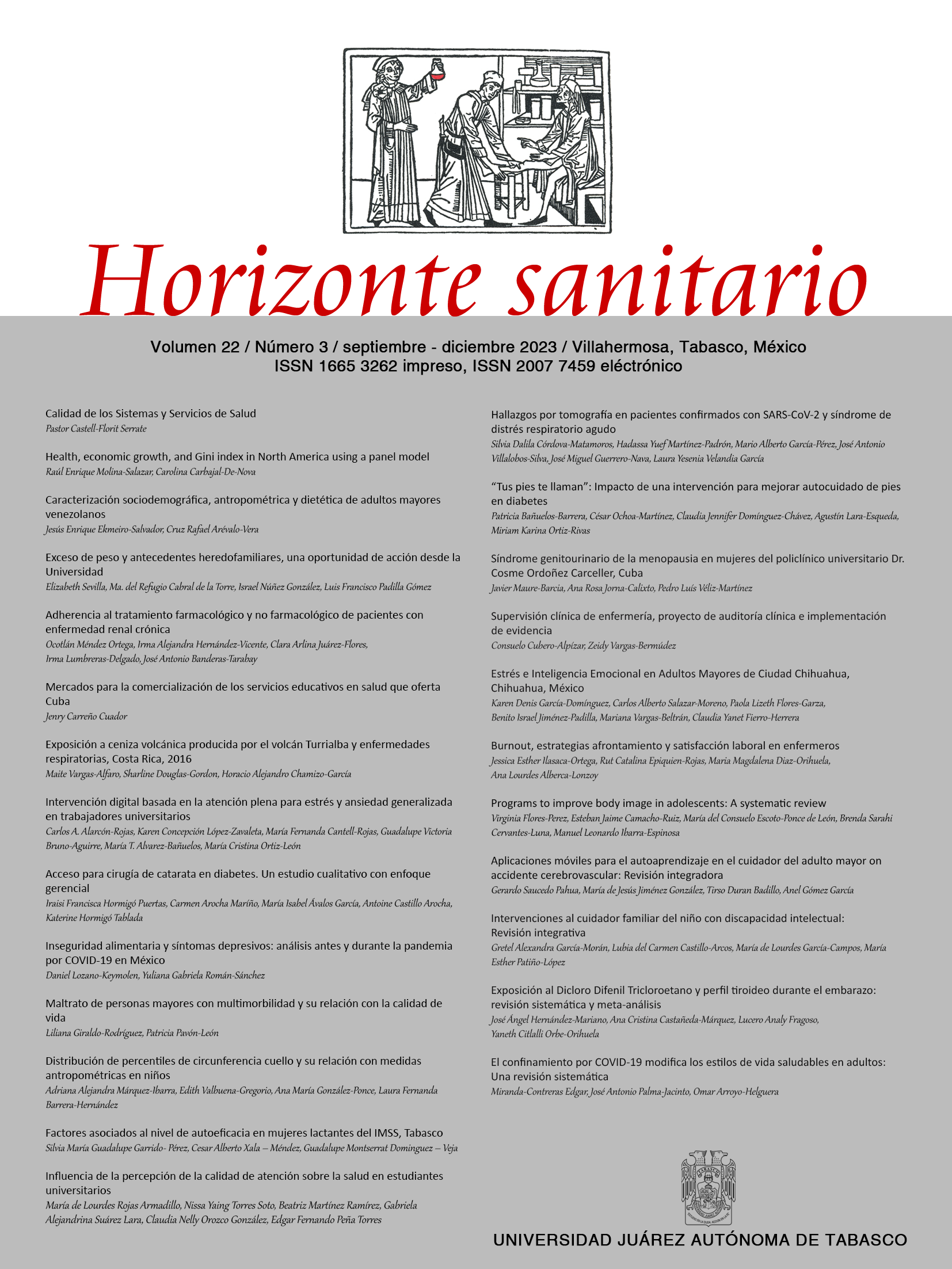 Downloads
How to Cite
Rojas-Armadillo, M. de L. ., Torres-Soto, N. Y., Martínez-Ramírez, B., Suárez Lara, G. A., Orozco González, C. N., & Peña Torres, E. F. (2023). Influence of the quality perception of care on health in university students. Horizonte Sanitario, 22(3), 593-600. https://doi.org/10.19136/hs.a22n3.5631
License
Copyright (c) 2023 Horizonte Sanitario
This work is licensed under a Creative Commons Attribution-NonCommercial-ShareAlike 4.0 International License.