Digital intervention based on mindfulness for stress and generalized anxiety in university workers
Abstract
Objective: To analyze the effect and perception of a based-mindfulness digital intervention to reduce work stress and anxiety among workers at the Universidad Veracruzana via WhatsApp.
Materials and methods: Workers of Universidad Veracruzana, including its five regional campuses. An experimental, controlled and randomized study was carried out, with an intervention via WhatsApp to reduce stress and work anxiety in workers of the Universidad Veracruzana. We aimed to know the perception of participants about the intervention, so focused interviews were conducted using standardized questions.
Results: A decrease in the means of the level of perceived stress and generalized anxiety of the experimental group were observed between the pre-intervention and post-intervention, with a significant difference, p=0.012 and p=0.013, respectively. In the control group, a slight increase in these levels was observed. No significant differences were identified between groups. To assess the perception, the analysis of the spectrum of the discourse was carried out with the concept of "Usability", the spectrum analyzed was where it was observed that the perception, participation and recommendation of the intervention was found present with a variable intensity. In the change, there was an extreme case intensity.
Conclusions: This study contributes to the advancement of knowledge regarding mental health self-care among workers at the Universidad Veracruzana and proposes a novel way to perform public health interventions that involve technology that is increasingly adaptable today.
Keywords: Mindfulness; Stress; Anxiety; Clinical trial.
Downloads
Download data is not yet available.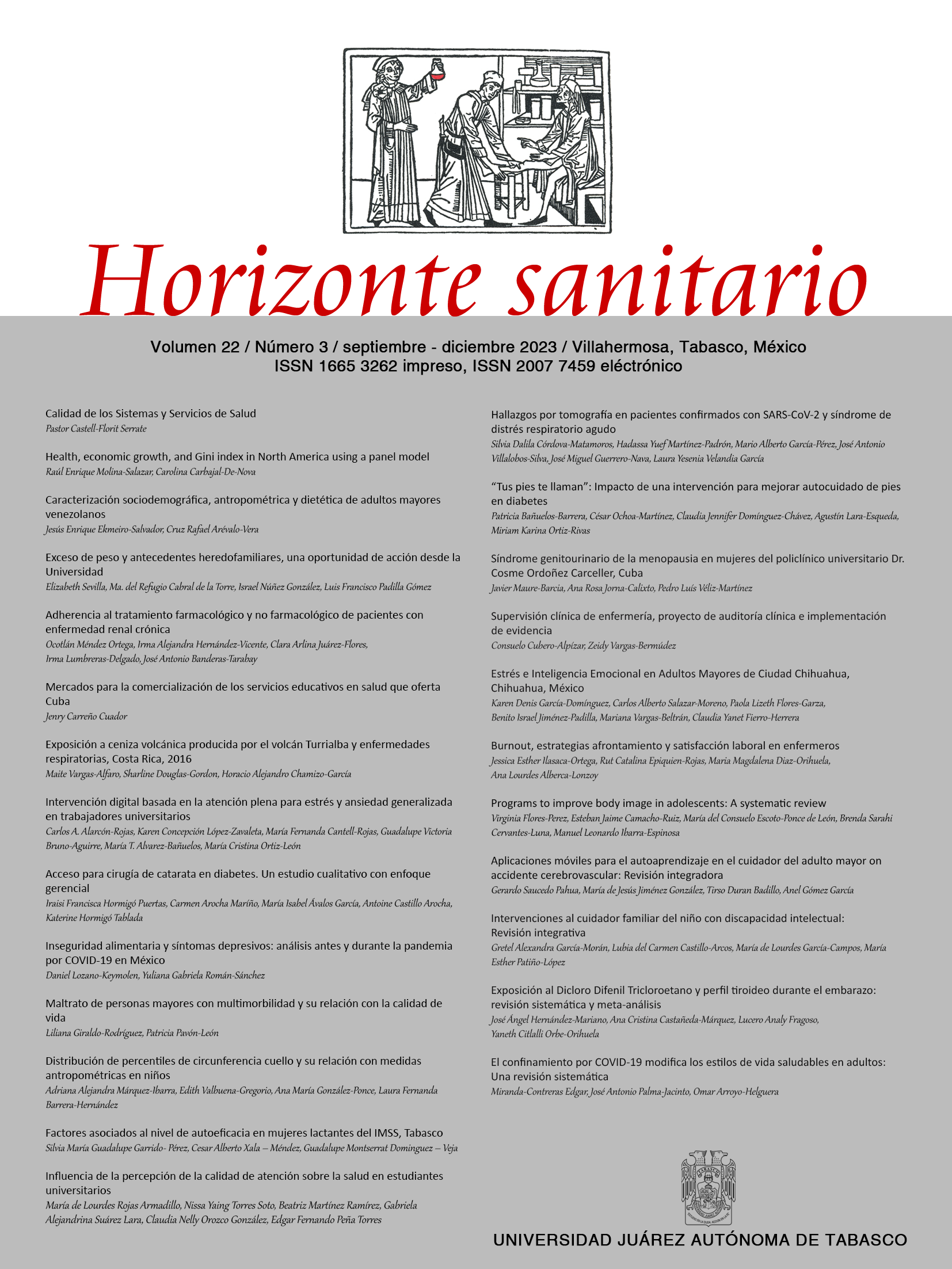 Downloads
How to Cite
Alarcón Rojas, C. A., López Zavaleta , K. C. ., Cantell-Rojas, M. F. ., Bruno-Aguirre, G. V., Alvarez Bañuelos, M. T., & Ortiz León, M. C. (2023). Digital intervention based on mindfulness for stress and generalized anxiety in university workers. Horizonte Sanitario, 22(3), 527-536. https://doi.org/10.19136/hs.a22n3.5629
License
Copyright (c) 2023 Horizonte Sanitario
This work is licensed under a Creative Commons Attribution-NonCommercial-ShareAlike 4.0 International License.