Interventions for the family caregiver of a child with intellectual disability: Integrative review
Abstract
Objective: To describe the interventions carried out on the family caregiver of a child with intellectual disability.
Material and methods: Integrative review in the PubMed, LILACS, VHL and Scielo databases, considering the inclusion criteria: seniority ≤ 10 years, in English, Spanish and Portuguese, that the intervention was aimed at the family caregiver (mothers or fathers). The descriptors intervention, caregiver, intellectual disability, child and the boolean operator AND were used. 233 articles were identified, 210 were discriminated against because the interventions were aimed at children, leaving 23 articles and of these 17 were eliminated because they did not fully meet the inclusion criteria, only a sample of 6 remained.
Results: The identified interventions were psychosocial, psychoeducational, music therapy and occupational therapy, managing to reduce symptoms such as depression, anxiety, sadness and stress, as well as levels of overload and indifference.
Conclusions: The interventions have a positive impact on the health of the family caregiver of the child with intellectual disability. The nursing professional should be guided in the design and implementation of interventions aimed at the family caregiver for her comprehensive care.
 Keywords: intervention, caregivers, children, intellectual disability.
Downloads
Download data is not yet available.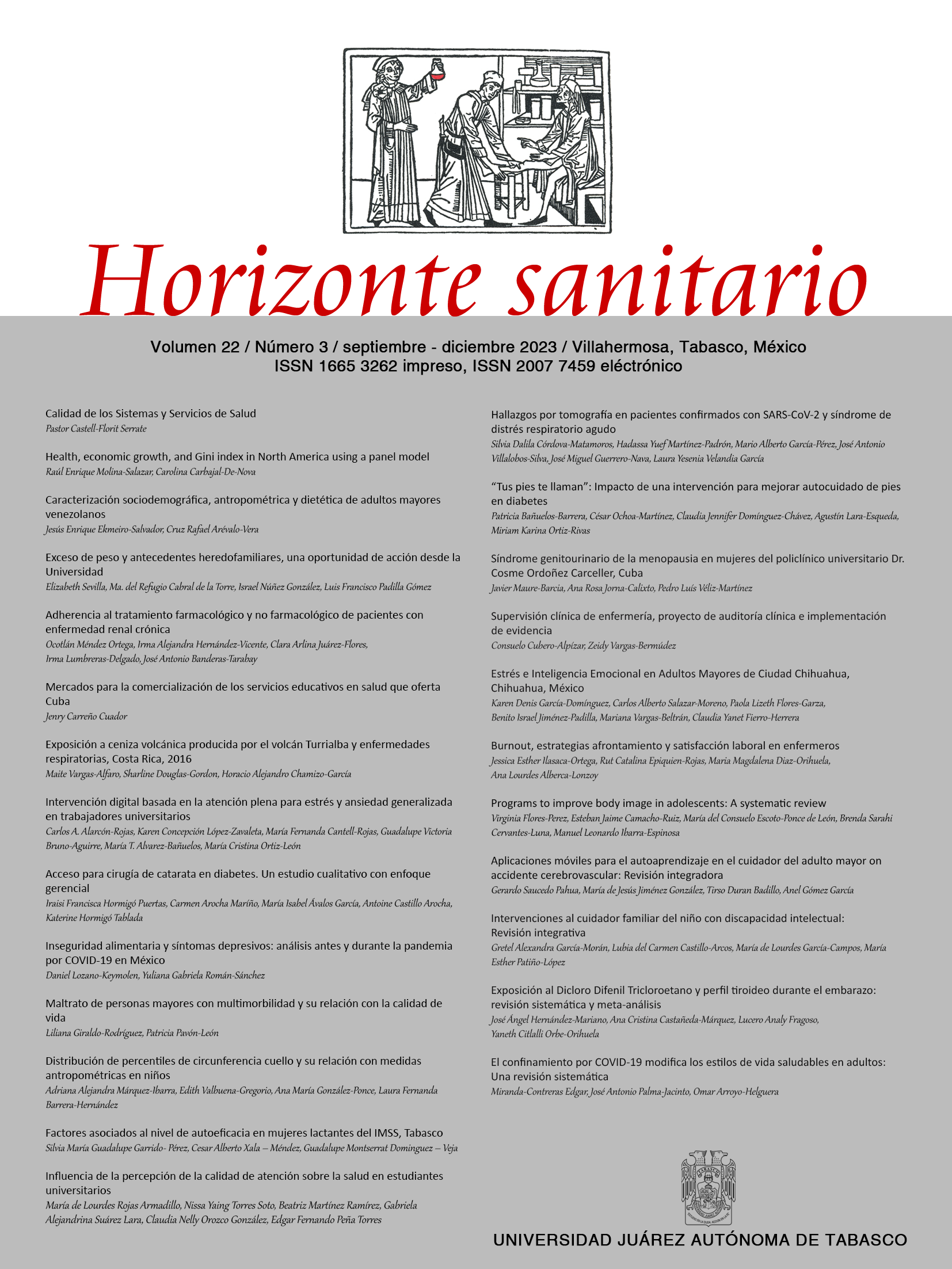 Downloads
How to Cite
García-Morán, G. A. ., Castillo-Arcos, L. del C. ., García-Campos, M. de L. ., & Patiño-López , M. E. (2023). Interventions for the family caregiver of a child with intellectual disability: Integrative review. Horizonte Sanitario, 22(3), 669-676. https://doi.org/10.19136/hs.a22n3.5153
Section
Reviewed Articles
License
Copyright (c) 2023 Horizonte Sanitario
This work is licensed under a Creative Commons Attribution-NonCommercial-ShareAlike 4.0 International License.