Tomography findings in patients confirmed with SARS-CoV-2 and acute respiratory distress syndrome
Abstract
Objective: Describe the tomographic patterns of lung involvement in patients with SARS-CoV2 and ARDS.
Materials and methods: Retrospective, cross-sectional and analytical study. Patients treated at the Regional High Specialty Hospital of Ciudad Victoria "Bicentenario 2010" (HRAEV), with a confirmed diagnosis of COVID-19 by RT-PCR and who had a chest computed tomography performed at the institution in the period from March 1, 2020 to July 31, 2020. A descriptive and analytical analysis was carried out.
Results: Tomography studies of 44 patients hospitalized in HRAEV who had ARDS and required IOT were analyzed, of which 72.7% were male, the average age was 64 years, of which 47.7% had Diabetes Mellitus, 63.6% with Systemic Arterial Hypertension and 43.1% with some degree of overweight or obesity.
Conclusions: The characteristic tomographic finding of patients with ARDS was a mixed type of ground glass and consolidation with severe and generalized involvement. A high mortality rate was observed in these patients with OTI up to 70%.
Keywords: SARS-Cov-2; pattern; ARDS; thorax; Findings.
Downloads
Download data is not yet available.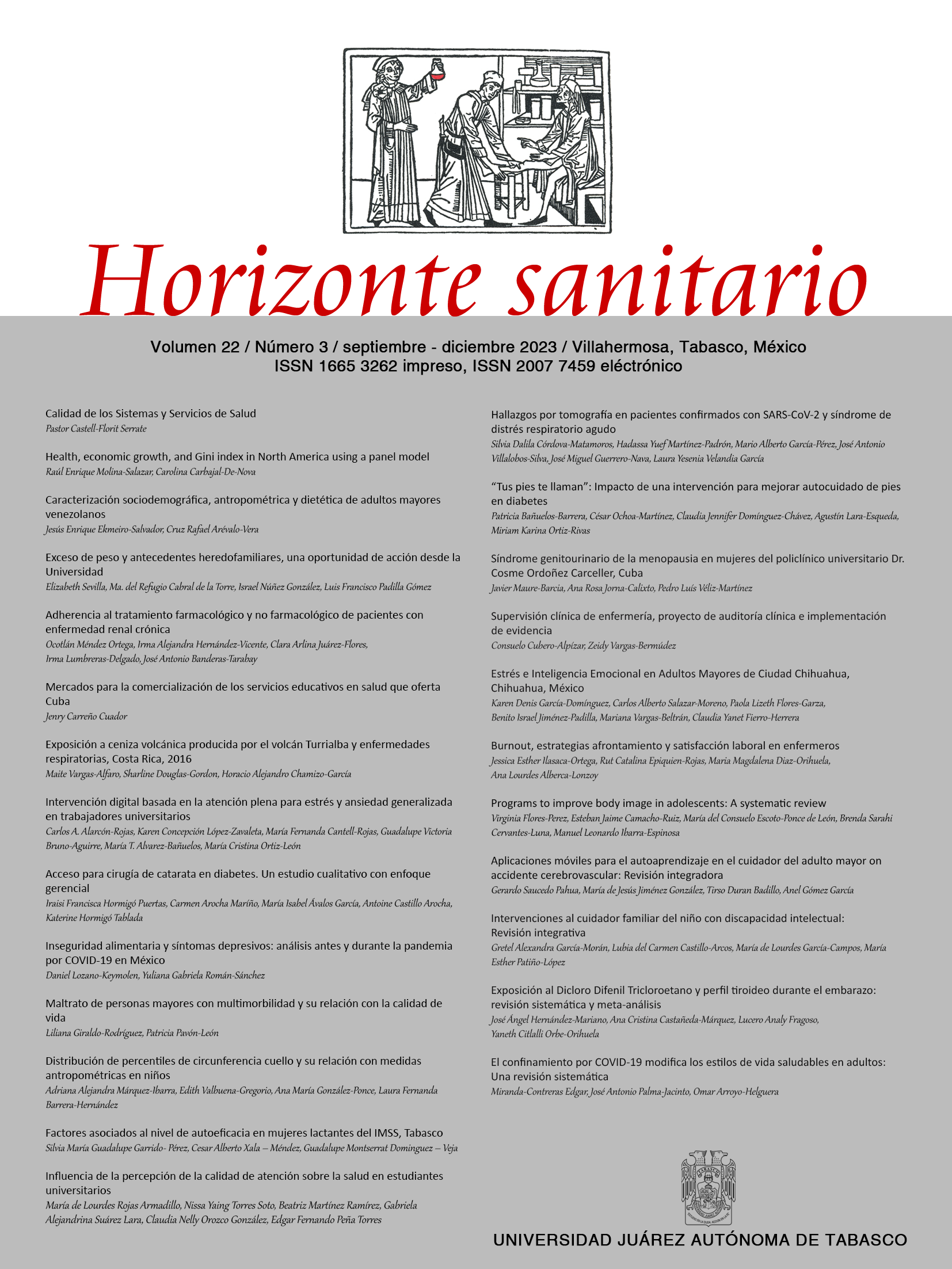 Downloads
How to Cite
Córdova-Matamoros, S. D. ., Martínez Padrón, H. Y., García-Pérez, M. A. ., Villalobos-Silva, J. A. ., Guerrero-Nava, J. M. ., & Velandia García, L. Y. . (2023). Tomography findings in patients confirmed with SARS-CoV-2 and acute respiratory distress syndrome. Horizonte Sanitario, 22(3), 601-606. https://doi.org/10.19136/hs.a22n3.5635
License
Copyright (c) 2023 Horizonte Sanitario
This work is licensed under a Creative Commons Attribution-NonCommercial-ShareAlike 4.0 International License.