Productos de tabaco calentado. Concepciones e Implicaciones para la Salud Pública
Abstract
Objetivo: Explorar necesidades de conocimiento y posibles líneas futuras de investigación sobre los Productos de Tabaco Calentado, PTC (Heat-not-burn tobacco products), desde la literatura científica publicada y las fuentes en internet para el público. Métodos: Estudio mixto cualitativo/cuantitativo paralelo bajo tipología de revisiones de literatura por Grant & Booth y Pinto, y diseño de estudios de mapeo según Cooper. Exploración de bases de datos en motores de búsqueda, cotejo de títulos/resúmenes en 4 idiomas de 2016-12-01 a 2017-12-31. Textos guardados en formatos MHT y PDF, acopiados en Dropbox y gestionados con Endnote X8. Definición de categorías agrupadas en cuatro dimensiones. Información analizada con Microsoft® Excel 2016 y Epi-INFO ® 7.2.2. Resultados: Cotejadas 46 páginas web, 63 referencias científicas, 99% en inglés; 2 manuscritos con nota de retirada. En D1 (sumario): presentación del producto vs. aspectos toxicológicos o evaluativos de PTC. 48 artículos (76,2%) en digital o impreso (2017); por país: EUA: páginas web 23 (50%), 20 artículos (32%); Suiza: 22 artículos (35%), 3 páginas web (7%). D2 (comercial): financiación por Phillip Morris International (PMI, 22; 33%) o universidades con fondos propios/gubernamentales (19, 30%); en páginas web predominaron PMI (60%), British American Tobacco y Japan Tobacco International (40%); relación con PMI ausente en 41 manuscritos (65%) y 36 páginas web (80%). D3 (metodológica): nivel de evidencia "experimental", laboratorial (26; 41,2%) o en humanos (4; 6,3%); investigación independiente en 36 (57%). D4 (interpretativa): principal interrogante en páginas web fue el carácter dañino o no de los PTC; en artículos científicos, los efectos de micro/nanopartículas de los PTC a mediano/largo plazo. Discusión: Se precisa que la comunidad científica complete los respectivos estudios de toxicidad y reducción del daño (harm reduction) relativos a los PTC y resuelva junto con el público y las autoridades preguntas relativas a su seguridad a mediano y largo plazo.
Downloads
Download data is not yet available.
References
Meurk C, Bell S, Ford P, Gartner C, The Lancet Respiratory M. Tobacco harm reduction revisited: back to the future. International journal of mental health nursing. 2017;5(1):1. DOI: 10.1016/s2213-2600(16)30439-8.
World Health Organization. WHO Report on the global tobacco epidemic, 2017. Monitoring tobacco use and prevention policies. Geneva: the Organization; 2017. 135 p.
Lindson-Hawley N, Hartmann-Boyce J, Fanshawe TR, Begh R, Farley A, Lancaster T. Interventions to reduce harm from continued tobacco use. The Cochrane database of systematic reviews. 2016;10:Cd005231. DOI: 10.1002/14651858.CD005231.pub3.
Fagerstrom KO, Bridgman K. Tobacco harm reduction: the need for new products that can compete with cigarettes. Addictive behaviors. 2014;39(3):507-11. DOI: 10.1016/j. addbeh.2013.11.002.
Rodu B, Godshall WT. Tobacco harm reduction: an alternative cessation strategy for inveterate smokers. Harm reduction journal. 2006;3:37. DOI: 10.1186/1477-7517-3-37.
Stratton K, Shetty P, Wallace R, Bondurant S. Clearing the smoke: the science base for tobacco haeduction--executive summary. Tobacco control. 2001;10(2):189-95. DOI.
Institute of Medicine Committee to Assess the Science Base for Tobacco Harm R. Clearing the Smoke: Assessing the Science Base for Tobacco Harm Reduction. Stratton K, Shetty P, Wallace R, Bondurant S, (eds.). Washington (DC): National Academies Press (US) Copyright 2001 by the National Academy of Sciences. All rights reserved.; 2001.
National Institute for Health and Care Excellence. Tobacco: harm-reduction approaches to smoking, NICE public health guidance no. 45. London: the Institute; 2013. 97 p.
Creswell JW. Research Design - Qualitative, Quantitative and Mixed Methods Design. Los Angeles: SAGE Publications Inc.,; 2009.
Grant MJ, Booth A. A typology of reviews: an analysis of 14 review types and associated methodologies. Health Info Libr J. 2009;26(2):91-108. DOI: 10.1111/j.1471- 1842.2009.00848.x.
Pinto M. Introducción al análisis documental y sus niveles: el análisis de contenido. Bol ANABAD. 1989;XXXIX(2):323-41. DOI.
Cooper ID. What is a "mapping study?". J Med Libr Assoc. 2016;104(1):76-8. DOI: 10.3163/1536-5050.104.1.013.
Manterola C, Asenjo C, Otzen T. Jerarquización de la evidencia. Niveles de evidencia y grados de recomendación de uso actual. Rev Chil Infectol. 2014;31(6):705-18. DOI.
Benavides FG, Moya C, Segura A, de la Puente ML, Porta M, Amela C. [Professional competencies in public health]. Gaceta sanitaria / SESPAS. 2006;20(3):239-43. DOI.
Muñoz F, Lopez-Acuna D, Halverson P, Guerra de Macedo C, Hanna W, Larrieu M, et al. Las funciones esenciales de la salud pública: un tema emergente en las reforma del sector de la salud. Rev Panam Salud Publica. 2000;8(1-2):126-34. DOI.
Levy DT, Cummings KM, Villanti AC, Niaura R, Abrams DB, Fong GT, et al. A framework for evaluating the public health impact of e-cigarettes and other vaporized nicotine products. Addiction (Abingdon, England). 2017;112(1):8- 17. DOI: 10.1111/add.13394.
Oakes JM., Kaufman J, (eds.). Methods in Social Epidemiology. San Francisco: John Wiley & Sons, Inc.; 2006.
Berkman L, Kawachi I, Glymour M, (eds.). Social Epidemiology. 2nd ed. New York: Oxford University Press; 2014.
Maeder S, Peitsch MC. Perplexing Conclusions Concerning Heat-Not-Burn Tobacco Cigarettes. JAMA internal medicine. 2017;177(11):1698-9. DOI: 10.1001/ jamainternmed.2017.5840.
Caruso M, Polosa R. Perplexing Conclusions Concerning Heat-Not-Burn Tobacco Cigarettes. JAMA internal medicine. 2017;177(11):1699. DOI: 10.1001/ jamainternmed.2017.5843.
Kamada T, Yamashita Y, Tomioka H. Acute eosinophilic pneumonia following heat-not-burn cigarette smoking. Respirology case reports. 2016;4(6):e00190. DOI: 10.1002/ rcr2.190.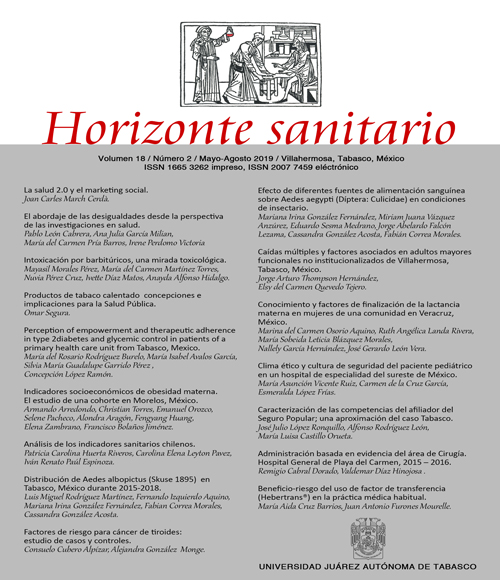 Downloads
How to Cite
Segura, O. (2019). Productos de tabaco calentado. Concepciones e Implicaciones para la Salud Pública. Horizonte Sanitario, 18(2). https://doi.org/10.19136/hs.a18n2.2424