Factores de riesgo para cáncer de tiroides en la población adscrita al Hospital San Rafael de Alajuela: estudio de casos y controles.
Abstract
Introducción: El cáncer de tiroides es una patología que está aumentando su incidencia a nivel mundial y nacional, conocer los factores que llevan a su desarrollo facilitaría las estrategias para atacar este problema de salud. Para Costa Rica a la fecha no se han realizado investigaciones como miras a la identificación de posibles factores de riesgo para el desarrollo de esta enfermedad. Metodología: Se desarrolla un estudio de casos y controles, en la población adscrita al Hospital San Rafael de Alajuela. Se trabajó con la totalidad de población adscrita al hospital San Rafael de Alajuela, a partir de esta, se seleccionaron los casos presentados entre enero del 2009 y diciembre del 2013 inclusive (un quinquenio). Resultados: La mayoría son mujeres tanto entre casos (76%) como en controles (69%). La distribución por edad quinquenal, es similar entre ambos grupos. Conclusión: Se puede afirmar que al igual que lo describe la literatura internacional, en Costa Rica, en la población estudiada se mantiene la línea de presentación de la enfermedad afectando más a individuos con edad entre los 25 y 65 años, predominantemente en el sexo femenino; dentro de la valoración por posible cáncer de tiroides hay que tener presente el antecedente de sobrepeso y obesidad, además del antecedente heredofamiliar de patología tiroidea.
Downloads
Download data is not yet available.
References
Organización Mundial de la Salud (OMS). Cáncer. OMS; 2018. Recuperado de: http://www.who.int/es/news-room/ fact-sheets/detail/cancer
Colonna M, Bossard N. Guizard (2010): Descriptive epidemiology of thyroid cancer in France: Incidence, mortality and survival. Annals d'Endocrinologie 71 95–101.
Davies L Welch HG. Current thyroid cancer trends in the United States. JAMA Otolaryngol Head Neck Surg. 2014 Apr; 140(4):317-22. doi: 10.1001/jamaoto .2014.1
Brito JP, Lew JL, Solórzano CC. Risk of thyroid cancer in Hispanics: a cohort study. Am Surg. 2013;79 (2): 213-4.
Shyang-Rong Shih, Wei-Yih Chiu, Tien-Chun Chang, and Chin-Hsiao T. Diabetes and Thyroid Cancer Risk: Literature Review. Experimental Diabetes Research. 2012. doi:10.1155/2012/578285
Schneider, D. Chen, H. New Developments in Diagnosis and treatment of Thyroid cancer. ACS Journals Clin. 2013; 63:373-394. doi: 10.3322/caac.21195
Plan Nacional para la Prevención y Control del Cáncer 2011-2017. Ministerio de Salud. San José, Costa Rica; 2012. Recuperado de: https://www.ministeriodesalud.go.cr/ gestores_en_salud/consejo_nacional_cancer/DM_plan_ nacional_para_la_prevencion_y_control_del_cancer.pdf
Memoria Institucional 2011 - San José, Costa Rica: El Ministerio; 2013. Recuperado de: https://www. ministeriodesalud.go.cr/sobre_ministerio/memorias/ memoria_institucional_2012/UMI_memoria_ institucional_2013.pdf
Nandwani R. Descripción de la presentación clínica y evolución de los pacientes diagnosticados con cáncer de tiroides papilar y folicular en el Hospital Nacional de Niños entre 1989 al 2009[Protocolo de investigación]Universidad de Costa Rica; 2012.
Almquist M, Johansen D, Björge T, Ulmer H, Lindkvist B, Stocks T, Hallmans G, Engeland A, Rapp K, Jonsson H, Selmer R, Diem G, Häggström C, Tretli S, Stattin P, Manjer J. Metabolic factors and risk of thyroid cancer in the Metabolic syndrome and Cancer project (Me-Can). Cancer Causes Control. 2011; 22:743–751. doi: 10.1007/s10552- 011-9747-2
Truong T, Baron-Dubourdieu D, Rougier Y, Guénel, P. (2010). Role of dietary iodine and cruciferous vegetables in thyroid cancer: a countrywide case-control study in New Caledonia. Cancer Causes Control. 2010; 21(8): 1183–1192.
Zamora-Ros R, Rinaldi S, Biessy C, Tjønneland A, Halkjaer J, Fournier A, Boutron-Ruault MC, et al. Reproductive and menstrual factors and risk of differentiated thyroid carcinoma: The EPIC study. Int J Cancer. 2015; 1;136(5):1218-27. doi: 10.1002/ijc.29067
Galeano-Tenorio Á, Torres-Ajá L, Puerto-Lorenzo J. Cáncer de tiroides. Caracterización en la provincia de Cienfuegos (2006-2010). Revista Finlay [revista en Internet]. 2012 [citado 2016 May 10]; 2(2). Disponible en: http://www. revfinlay.sld.cu/index.php/finlay/article/view/109
Lope,V. Pollan, M. (2005) Epidemiología del cáncer diferenciado de tiroides. Endocrinología y Nutrición 2005;52(Supl.1): 2-10.
Marcello MA, Malandrino P, Almeida JFM, Martins MB, Cunha L, Bufalo NE, Pellegriti G, Ward L. (2014) The influence of the environment on the development of thyroid tumors: a new appraisal. Endocr Relat Cancer. 2014;21(5):T235-54. doi: 10.1530/ERC-14-0131
Califano I, Deutsch S, Castro L, Fassi J, Lowenstein A, Balzaretti M, et al. y miembros del Departamento de Tiroides de la Sociedad Argentina de Endocrinología y Metabolismo (SAEM). Carcinoma medular de tiroides: estudio multicéntrico. Presentación y evolución en 219 pacientes. Rev. argent. endocrinol. metab. 2013; 50(2).
Kilfoy BA, Zheng T, Holford TR, Han X, Ward MH, Sjodin A, Zhang Y, Bai Y, Zhu C, Guo GL, Rothman N, Zhang Y. International patterns and trends in thyroid cancer incidence, 1973-2002. Cancer Causes Control. 2009;20(5):525-31. doi: 10.1007/s10552-008-9260-4 2008.
Pellegriti G, Frasca F, Regalbuto C, Squatrito S, Vigneri R. Worldwide increasing incidence of thyroid cancer: update on epidemiology and risk factors. J Cancer Epidemiol. 2013;2013:965212. doi: 10.1155/2013/965212.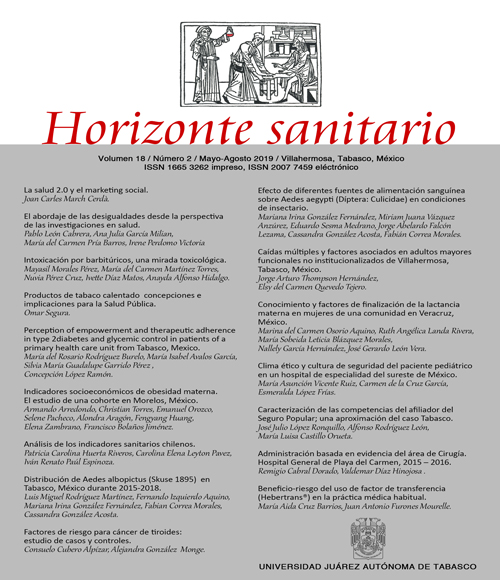 Downloads
How to Cite
Cubero-Alpízar, C. (2019). Factores de riesgo para cáncer de tiroides en la población adscrita al Hospital San Rafael de Alajuela: estudio de casos y controles. Horizonte Sanitario, 18(2). https://doi.org/10.19136/hs.a18n2.2511