Intoxicación por barbitúricos, una mirada toxicológica.
Abstract
Introducción: Los barbitúricos son depresores no selectivos del sistema nervioso central desplazados como hipnosedantes por el mejor índice riesgo- beneficio de las benzodiacepinas. En la actualidad sus principales usos son en la anestesia y para el tratamiento de la epilepsia. Su consumo con fines suicidas continúa, y debido a lo inespecífico del inicio de su sintomatología, las intoxicaciones pueden resultar fatales. Objetivos: Actualizar los conocimientos acerca de las características desde el punto de vista toxicológico de las intoxicaciones por barbitúricos. Materiales y métodos: Se realizó un estudio donde se aplicó el método cualitativo, mediante una revisión bibliográfica y documental sobre el tema en fuentes de datos digitales. Se usaron los descriptores DeCs-MeSH: intoxicaciones, barbitúricos, tratamientos, hemoperfusión, toxicología. Se revisaron artículos publicados sobre el tema, a través de los buscadores habituales (Google, PubMed, Cochrane, Scielo, entre otros), teniendo en cuenta la calidad y la actualidad de ellos. Resultados: Tanto las dosis tóxicas como el comportamiento toxicocinético de estos fármacos son variables y dependen sobre todo del grupo al cual pertenezcan. Las intoxicaciones más frecuenten están relacionadas con los barbitúricos de acción prolongada. Debido a su alta liposolubilidad, los de acción ultracorta, pueden quedar acumulados en el tejido adiposo y al movilizarse estas reservas pueden ser fuente de toxicidad. Aunque no son comunes también hay que tener en cuenta la posible existencia de metabolitos activos. Conclusiones: Estos son fármacos en desuso debido a su estrecho margen terapéutico, la elevada dependencia y posterior tolerancia que provoca un aumento potencial de su toxicidad. Aun así, acompañados de una debida monitorización, pueden emplearse en situaciones concretas. Desafortunadamente todavía se producen numerosas muertes por sobredosis accidentales o con fines suicidas.
Downloads
Download data is not yet available.
References
Nolla J. Intoxicaciones por benzodiacepinas y barbitúricos. En: Moran-Chorro I, Baldira-Martínez de Irujo J, Marruecos- Sand L, Nogué-Xarau S. Toxicología clínica. Madrid: Grupo difusión; 2011. 167p.
Gibert-Rahola J, Álvarez E, Baca E, Bobes J, Casais I, etals. Lo que siempre quiso saber de los psicofármacos y nunca
se atrevió a preguntar, 4 ed. Madrid: Aula médica; 2011. 66p.
Escobar-Román R, Jiménez-López E, Alonso-Cáceres B, Martínez-Montalbán CM, García-Silveiro DM, et als. Intoxicación aguda por ingesta intencional de fenobarbital sódica [Internet]. Rev Toxicol. 2012 [citado 26 febrero 2018]; 29:132-34. Disponible en: http://www.redalyc.org/
pdf/919/91931401010.pdf
Ruiz-Cuesta M, Caballero-Martínez L, Berberan-Morana C. Toxicología de los barbitúricos. Rev Fac Cien Salud [Internet]. 2013 [citado 28 febrero 2018]; 10. Disponible en:http://www.aux.es/publicaciones/archivo/CCSREV13_001.pdf
Afandijev I, Aziziv V. Poisoning by psychopharmacological drugs in Azerbaijan: the results of 8-year prospective observation [internet]. Georgian Med News 2017 [citado 2 mayo 2018]; 272: 138-44. Disponible en: https://www.ncbi.nlm.nih.gov/pubmed/29227273
González Valiente ML, Pérez Echemendia JO,González Delgado CA, Capote Marrero B. mortalidad por intoxicaciones agudas producidas por medicamentos. Cuba, 1995-1996 .Rev Cubana Farm. 2000 [citado 2 mayo 2018];34(1): 25-33.
Castillerro-Mimenza O. Barbitúricos: efectos, mecanismos de acción y toxicidad [Internet]. Psicología y mente:Psicofarmacología; 2018 [citado 28 febrero 2018]. Disponible en: http://psicologiaymente.net/psicofarmacologia
Rand HP, Ritter JM, Flower RJ, Henderson G. Pharmacology 8 ed. Churchill Livingston: Elsevier; 2016.546p.
Jhon-Mihic S, Adron-Harris S. Hipnóticos y sedantes. Intoxicación por barbitúricos Artículo de revisión En: Goodman G, Gilman. Las bases farmacológicas de la terapéutica, 12 ed. México: McGraw Hill Interamericana editores; 2012. 457p.
Hurle MA, Montí J, Florez J. Fármacos ansiolíticos y sedantes. Farmacología de los trastornos del sueño. En: Florez J. Farmacología humana, 6 ed. Madrid: Elsevier Masson; 2014. 447p.
Varona J, Escribano E, Martin-Calderón JL. Fenobarbital: farmacocinética, toxicología y monitorización por el laboratorio. Rev Diagn Biol. 2001; 50(1)
Gallego-Fernández A, de Sande-García MA, Martin- Fernández AM, González-Galán MJ. Aspectos fundamentales del citocromo P 450. Madrid: Además; 2011. 93p.
Minarikova M, Fojtikova V, Vyzkocilova E, Sedáclek J, Sikuct M et al. The capacity and effectiveness of diosmectite and charcoal in trapping the compounds causin the most frequent intoxications in acute medicines: a comparative study [Internet]. Environ Toxicol Pharmacol. 2017 [citado
mayo 2018]; 52: 214-20. Doi:10.1016/j.etap.2017.04.011.Epub2017Apr17
Los barbitúricos (depresores) y sedantes [Internet]. Banco atlas; 2003 [citado 28 febrero 2018]. Disponible en:
Merino-Rubio C. Intoxicaciones por fármacos [Internet]. Servicios Navarros de salud [citado 1 marzo 2018]. Recuperado de: http://www.cfnavarra.es/salud/PUBLICACIONES/Libro%20electronico%20de%20temas%20de%20Urgencia/16.Toxicologia%20Clinica/
Intoxicaciones%20por%20farmacos.pdf
Mandal A. Riesgos del Barbitúrico [Internet].News Medical; 2018 [citado 2 marzo 2018]. Disponible en: https://www.news-medical.net/health/Barbiturate-Risks-%28Spanish%29.aspx
La intoxicación por barbitúricos: síntomas, efectos, primeros auxilios [Internet]. Medsaludin.es; 2018 [citado 2 marzo 2018]. Disponible en: http://www.medisaludin.es
Peña LM, Zuluaga AF. Protocolos de manejo del paciente intoxicado 1 ed. Colombia: Universidad de Antioquia; 2012. 106p.
Roa-Bernal JA, Uribe-Granja C, Pardo-Herrera J, Delgado-Rodríguez O. Guías de práctica clínica basadas en la evidencia. Intoxicaciones por medicamentos. Bogotá: Seguro social salud. 31p.
Mintegi-Raaso M. Intoxicaciones medicamentosas. Protocolos diagnostico- terapéutico de urgencias pediátricas [internet]. Vizcaya: AEP [citado 2 marzo 2018]. Disponible en: https://www.aeped.es/sites/default/files/documentos/intoxicaciones_medicamentosas.pdf
Ruhe M, Grautof F, Kahler J, Pohler T. Suicide attempt by means of phenobarbital overdose. Effective treatment with continuous veno-venous hemodialysis [Internet]. Med Klin Intensivmed Notfmed. 2016 [citado 3 mayo 2018];111(2):141-4. doi: 10.1007/s00063-015-0046-7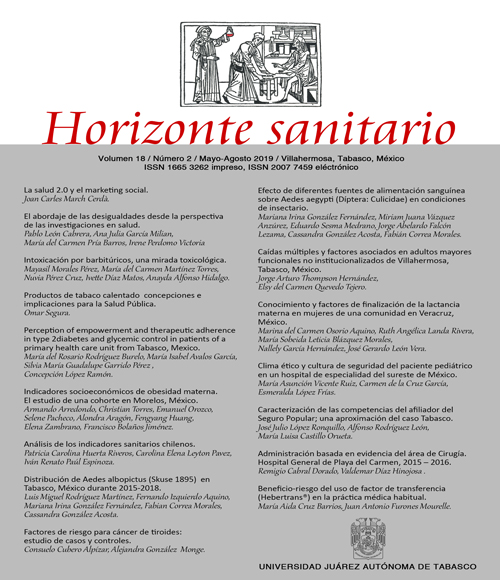 Downloads
How to Cite
Morales-Pérez, M. (2019). Intoxicación por barbitúricos, una mirada toxicológica. Horizonte Sanitario, 18(2). https://doi.org/10.19136/hs.a18n2.2418
Section
Reviewed Articles