Adverse drug reactions in the elderly of Matanzas, Cuba 2014-2019
Abstract
Objective: To characterize suspected adverse drug reactions that
occurred in older adults in Matanzas, from 2014 to 2019.
Materials and methods: Pharmacovigilance (FV) case series study.
The database of reports of suspected adverse drug reactions of the
Provincial Pharmacovigilance Coordinating Unit, between 2014 and
2019, was reviewed.
Results: A total of 1926 reports of adverse drug reactions in the elderly
were evaluated, representing 24, 3% of the total. Women (56.7%) and
the age group between 60 and 69 years (51.4%) predominated. Skin rash
prevailed (13.4%). Antimicrobials and non-steroidal anti-inflammatory
drugs were the ones most associated with ADRs in the skin, as well as
in the digestive system. Cough was related to captopril. Adverse drug
reactions of low frequency (55.2%), moderate (83.8%) and probable
(77.1%) prevailed according to immutability.
Conclusions: The safety profile in the elderly in the province
of Matanzas shows a predominance of frequent, moderate and
probable adverse reactions in women aged between 60 and 69 years.
Antimicrobials, angiotensin-converting enzyme inhibitors and nonsteroidal
anti-inflammatory drugs were the drugs most reported by
doctors and pharmacists, producing symptoms at the level of the
digestive system and the skin.
Keywords: Pharmacovigilance, Adverse reactions, Elderly
Downloads
Download data is not yet available.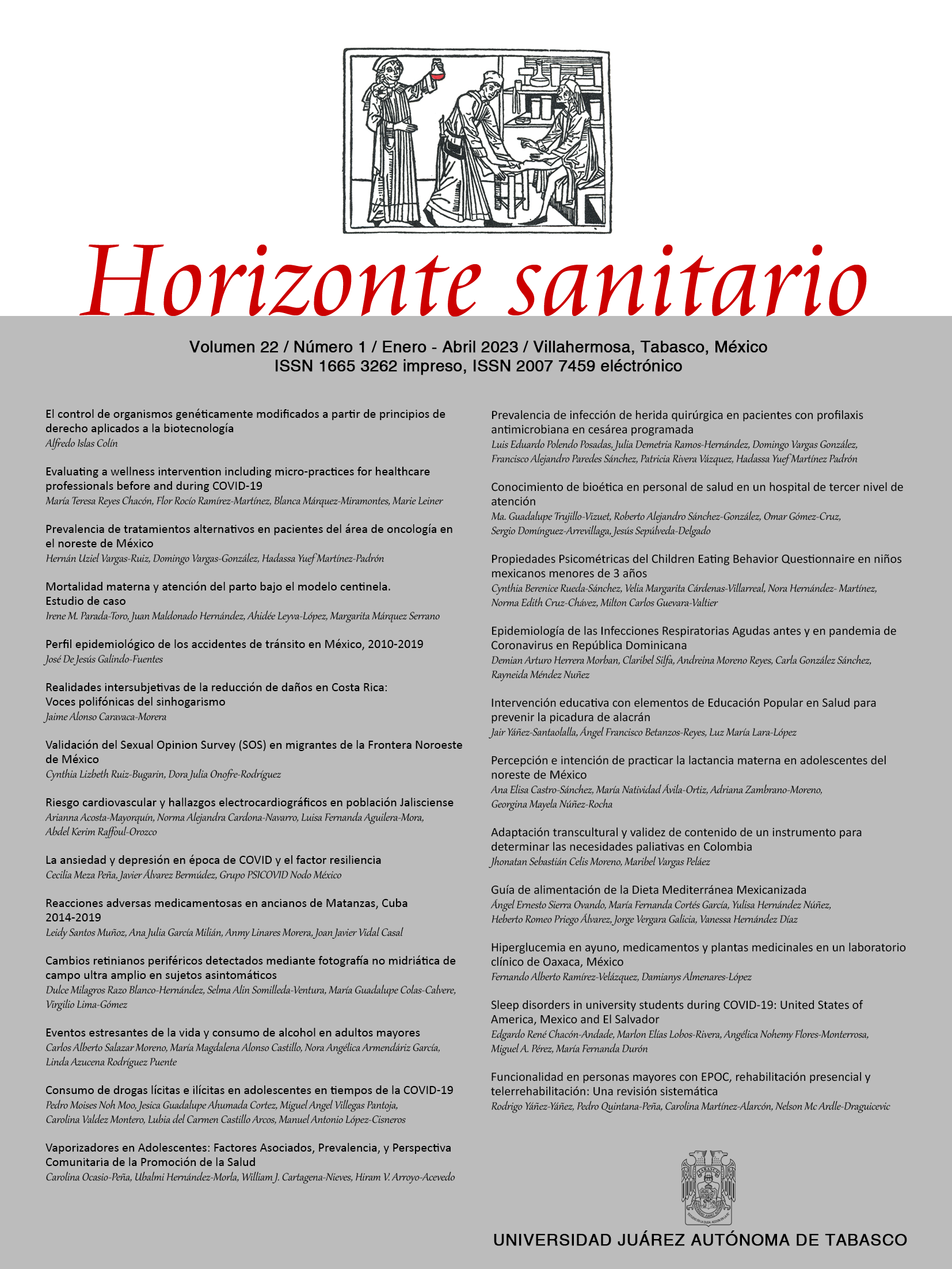 How to Cite
Santos Muñoz, L. ., Garcia-Milian, A. J., Linares Morera, A. ., & Vidal Casal, J. J. . (2022). Adverse drug reactions in the elderly of Matanzas, Cuba 2014-2019. Horizonte Sanitario, 22(1), 83-88. https://doi.org/10.19136/hs.a22n1.4996
License
Copyright (c) 2022 Horizonte Sanitario
This work is licensed under a Creative Commons Attribution-NonCommercial-ShareAlike 4.0 International License.